Shia Online Quran Learning Center for Kids & Adult Students
Islam gives great importance to acquiring knowledge and acquiring Quran knowledge is the most important duty of a Muslim. The first revelation of Allah was also about learning. The first word was 'iqra', which means to read. Learning is, therefore, the basis of everything. The Quran asks us to ponder over the signs of Allah in the world. A man can do this by learning as it is the noblest deed. The best among humankind is the one who learns the Quran and spreads this knowledge among others. We can, therefore, understand how great learning in Islam is.
We have understood how important learning is but we didn't understand the importance of a teacher. It is the teacher who helps us in learning the Quran. A teacher is a learned person and scholar (alim) is a highly educated person in Islam. He is, therefore, highly-respected personality. The place of learning the Quran is also a respectable place for all the Momineen. These are the most important places where learning and studying the Quran takes place. The madrassa is a typical word used for such Islamic institution that Momineen join for learning the two basic Quran courses, i.e. reading and memorization.
For advanced level learning, the institutions are typically known as Jamiah. Momineen learn different types of courses like Quranic interpretation, Islamic laws, Fiqh, Hadith, and Islamic history from Jamiah.
Our Prophet Muhammad (PBUH) established the first Islamic institution in the history of Islam. Quran education is equally important for men and women. Prophet's own household used to take Quran education and encouraged other Muslims including the female Muslims to learn the Quran.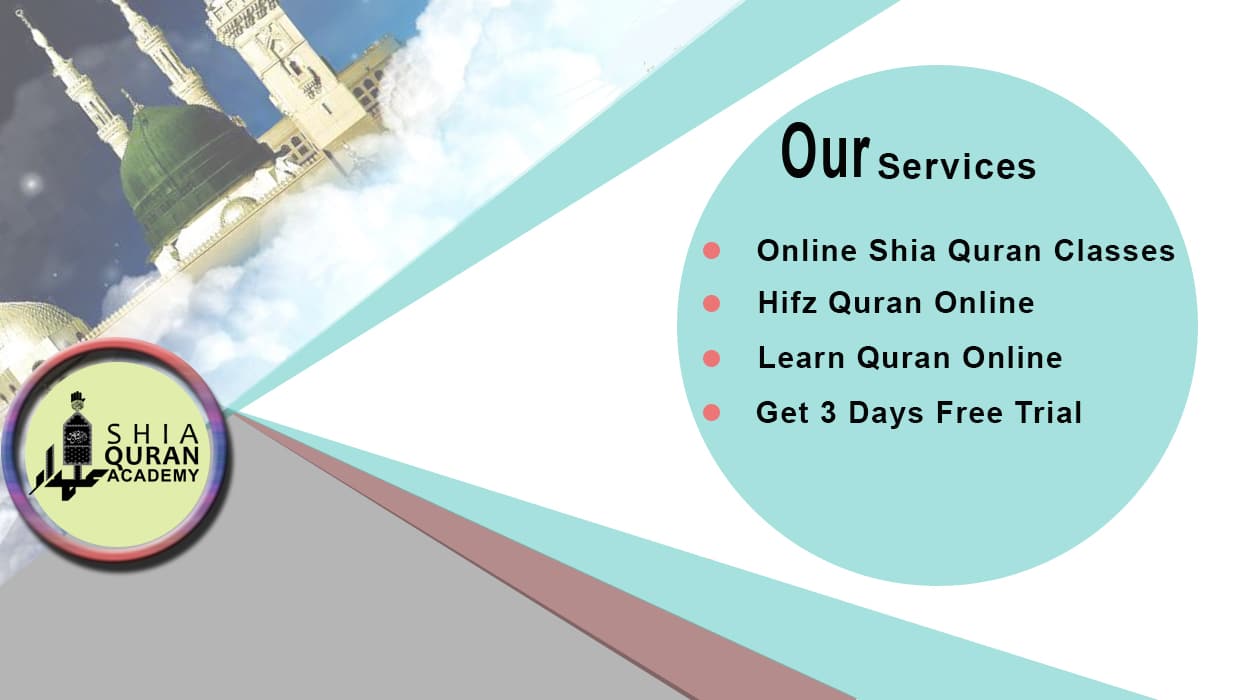 When we study the Quran and implement its teachings in our life we are able to play a constructive role in society. After learning, we have the responsibility to impart the knowledge to others.
Seeking knowledge is the basic part of the Islamic tradition. Quran and religious knowledge and its transmission are not only important but also the identity of a Momin. Islamic and Quran centers are serving this cause.
When Islam (Fiqh Jafferia) expanded to other regions it became necessary to provide Momineen with the opportunity to acquire the knowledge of the Quran under the supervision of Shia teachers and scholars.
Shia Muslims are residing in all parts of the world. The tradition of Shia Center began for educating the community with the basic knowledge of the Quran and religion. The centers are very important for higher learning like the study of Fiqh – Islamic jurisprudence, Tafseer – the interpretation of the Quran, etc to cater to the needs of Shia Muslim populations. There are a lot of other courses that Momineen can learn from such centers. Unfortunately, we have a shortage of these centers. Momineen find it very difficult to find an institute in every area where they are living. There are some countries where Momineen cannot find Shia institutes for learning. So they need an alternative as Quran learning can never be ignored at any cost.
Online Centers for Learning
The best solution for such Momineen is an online Quran Center for Shia Muslims. Online Quran centers that teach the Shiite version of Islam are very important because these institutes are the hub for Islamic learning. A large number of these institutes have renowned scholars to teach Momineen.  All kinds of Islamic educated is rooted in the teachings of the Quran. So learning the Quran is very important.
Online Quran centers are more reliable for parents because the students can learn at their own home. Choosing the Shia center for kids teaching special courses for children is a safe and reliable way to fulfill your religious responsibility. It is one of the major responsibilities of Momin parents to arrange Quran education for their children to make their future safe.
When you choose a reliable institute you must thank the sincere efforts of Shia Online Learning Center that have helped you in reaching your goals of Islamic learning (under Shia views). Momineen in western countries like USA, Canada, UK, etc choose online centers because of a great number of reasons. There are a good number of online Shia Quran centers across the world. These centers are working sincerely and devotedly in spreading the Islamic messages according to Fiqh Jafferia and equip the Momin kids and adults with Islamic theology.
If you want to learn or teach the real concept of Aqaaid, Ahkaam, dealings, obligations, etc to your kids, online Quran Shia Academies are the best choice for you. For the basic Quran learning, there should be a reputable
Shia Kids Online Center. Online center of Shia studies is becoming very popular in the present time. The common reason is that most of the Shia Muslim families don't prefer local Madrassas education. They don't want to go to such an institution or send their children to these institutions for learning Islamic/Quran education because the atmosphere of the Quran Center for Shia students is not friendly and comfortable. Teachers are often not well-educated and trained. Experience of a tutor is also very important but if the experienced tutors are unavailable, many of us don't prefer to learn from them.
Choosing an online Shia center is a wise decision as you can find well-qualified, experienced, knowledgeable, and reliable teachers. Previously, common people had no awareness of online learning so they used to choose local institutes. But today, online learning is common and nearly every person is aware of this method of learning.
People know that an online center for Shia students offer a lot of benefits that other modes of learning don't offer them. Momineen can find a Shia tutor without going anywhere.
Parents feel satisfaction that their children learn from a Shia kids center at their own home. They don't have to drop their children anywhere. Security of children is a very important concern of parents so if parents get an opportunity for home-based learning for their children, there is nothing better than this option.